Medical Malpractice Attorneys in Tampa, FL
Medical malpractice is a very specialized area of law that addresses and seeks compensation for the results of negligence from workers in the medical field. In order to pursue a medical malpractice case, there must be strong facts concerning the incident as well as substantiating evidence about the injuries that were sustained. While not easy cases to win, having a lawyer who is well-versed in Florida medical malpractice law, who also has vast experience handling and negotiating malpractice cases, and knows how win in the courtroom, are all key to achieving a just outcome for victims and their families. If you feel you have been injured by the negligent or wrongful actions of a medical professional or facility, contact In Law We Trust Divorce and Family Lawyers as soon as possible. The right lawyer and prompt action are the first steps toward the justice you may well deserve. Speak with us before you try to pursue any legal action on your own.
Determining if You Have a Case
First and foremost, the standard of medical care must be determined for your particular situation. In order for that "standard of care" to be established, another health care expert will review your medical records. If from that review it can be shown that the health provider did not meet those standards by using reasonable and appropriate skill and treatment given all the relevant surrounding circumstances, it may very well be that medical malpractice has occurred. However, it also must be proved that this breach in the standard of medical care, whether it was the failure to provide appropriate treatment or a wrongful act, was the cause of injury or death.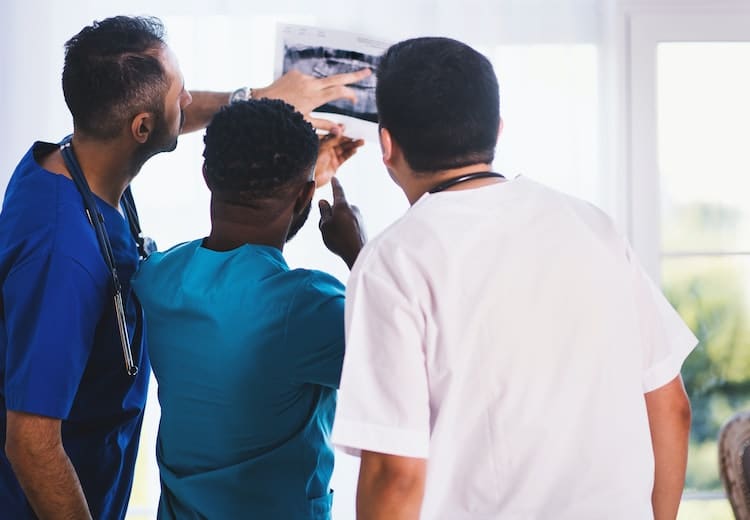 Something to also understand is that not all bad outcomes are justifiable as medical malpractice. Medicine is not an exact science and many times a particular disease or injury can't be cured, or doctors and hospitals did everything right, and the patient still did not get a good result. Again, it is important to understand that to pursue a case, it must be proved not only that medical malpractice has occurred, but also that mismanagement or neglect of proper care was what caused the injury or death.
The Most Common Types of Medical Malpractice
Misdiagnosis, Delayed Diagnosis, or Failure to Diagnosis

Surgical or Anesthesia Errors

Medication Errors

Failure to Request Necessary Tests or Failure to Perform Proper Follow-up Care

Injuries in Childbirth

Hospital or Emergency Room Error

Dental Malpractice
While these are the most common areas of medical malpractice, our firm has worked with clients and victims of all sorts of unusual situations. We are ready to meet with you to discuss your experience and concerns, and will be able to guide you through the best action for your particular case. If you do have a legitimate medical malpractice we will work for your best interest whether it is negotiating a settlement or taking your case to trial.
Statute of Limitations
In Florida, there is a certain amount of time within which you can bring a lawsuit, and that is called the statute of limitations. That time period is defined as two years from when you knew, or should have known, that malpractice has occurred, but no longer than four years from when the event actually occurred. If you do not act within the statute of limitations you will not be able to pursue your case. So if you have concerns about medical care received and the outcome, and feel you or a loved one has been a victim, don't hesitate too long! Working with In Law We Trust Divorce and Family Lawyers will help ensure that your claim will be brought forth in a timely manner.
Call 813-415-3510 Today For a Free Consultation
In Law We Trust Divorce and Family Lawyers has the experience, resources, and expertise to see that those responsible for your injury will be held accountable and that you receive compensation for what has happened. We are the Tampa medical malpractice firm that has the experience to navigate this very complicated area of the law. Call us today to discuss pursuing the justice you deserve.