Motorcycle Accident Attorneys in Tampa FL
With beautiful weather all year-round, it's no wonder why Florida has so many motorcycle riders! Unfortunately though, statistics show that the state of Florida leads the nation in the number of motorcycle fatalities. While all motor vehicular accidents can be dangerous, the ones involving motorcycles are among the most catastrophic with serious injuries to the motorcyclist and all others involved, especially if the motorcyclist is not wearing a helmet.
Let's Talk First About Prevention
Riding a motorcycle has its advantages, can be exhilarating and relaxing, but it also can be very dangerous. Before operating a motorcycle or riding as a passenger, be sure you are up-to-date on safety tips and procedures. Learn how to avoid negligent drivers and what to do if you get into an accident. A little preparation could make a big difference.
Motorcycles lack the same external protection provided by a car's outer shielding, and therefore have less chance of surviving a major accident. If a bike goes down on the pavement, and the rider is not wearing a helmet of protective clothing, even at a slow rate of speed in what would seem to be a minor incident, the consequences can still be deadly. This is why it is so important that drivers of all motor vehicles and motorcycles be respectful and considerate to one another on the open road.
Cars making a left turn across a motorcyclist's path are the most common cause of motorcycle accidents. This is caused by distraction, not paying attention, blind spots, and even the fact that the driver focuses on the absence of cars and overlooks the presence of a motorcycle. Yes, that is true. A motor vehicle operator can look directly at a motorcycle and still not see it! Motorcyclists must constantly remain alert, especially at intersections, and drive defensively at all times. And also- while the law in Florida does not require a helmet, there are many good reasons why you really should! Not only should you be wearing a helmet, but also wear face shield's boots, gloves, and yes, even though it is warm here in Florida, a long sleeve shirt and jacket or vest!
Motorcyclists must follow the same road rules and traffic laws as drivers of other motor vehicles in Florida. Motorcycles are entitled to the entire lane to themselves, but unfortunately many car drivers either ignore or don't understand that. Motorcyclists are not allowed to split lanes or weave between lanes of traffic. Cars may not be prepared for a "smaller" motorist to appear out of the blue from another angle, lane or side of the road. As a motorcyclist you have to be even more proactive in avoiding what could lead to an unsafe situation. The state of Florida requires that motorcycle riders take a Basic Rider Course and get a proper license or endorsement added to their existing driver's license.
Do You Need a Tampa Motorcycle Accident Attorney?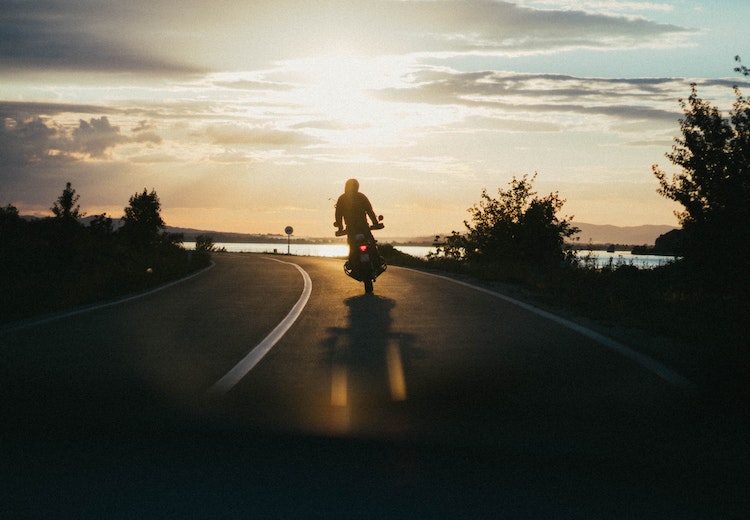 If you or someone you love has been in an accident on a motorcycle you are probably wondering if you can sue the other driver, how insurance claims work, and have many other questions about recourses for your injuries and losses. A motorcyclist who has been injured or the family of a motorcyclist killed in an accident caused by the negligence of another motorist may have a legal right to seek compensation for the loss of a loved one. Call In Law We Trust Divorce and Family Lawyers today! We are the law firm with experienced motorcycle accident lawyers who will review the specifics of your accident and your resulting situation and will can discuss in full detail all of your legal options.
Legal Options
If you have been involved in a motorcycle accident, you are likely dealing with many complications that are not only health related, but legally and financially taxing as well. There are several options available to you, especially if the accident was caused by reckless or negligent behaviors from the other driver or another source. It could be that another motorcyclist, truck, pedestrian, car, or even defective equipment was the cause.
If a motorcyclist gets into an accident, the duty of care is like any other negligence case. This means that it must be shown that the accident was caused by someone's careless actions, and it must be proved that:
The victim was owed a duty of care by the defendant

The defendant somehow breached that duty

The breach caused the plaintiff's injuries

It resulted in damages
There are several considerations that will be taken into account when reviewing all the circumstances of the accident. Road conditions around an accident can very much change a situation, as can weather conditions, the history of the motorcycle's maintenance, and the condition of the motorcyclist's tires. A motorcycle accident is never cut and dry, no matter how obvious it might seem. That is why legal representation is so important. If you were injured in a motorcycle accident, we can help you. In Law We Trust Divorce and Family Lawyers will provide you with our professional opinion regarding the best legal course of action to take.
What is My Claim Worth?
In Florida, you can recover compensatory damages, which refers to an amount of money that is intended to restore you to where you were before the injury. These can include economic damages and non-economic damages. Economic damages generally include:
Medical expenses and estimated future medical expenses

Lost income and lost earning capacity

Property damage

Out of pocket costs
Non-economic damages can include:
Pain, suffering, mental anguish, and emotional distress

Loss of a relationship with a partner

Inconvenience

Loss of enjoyment of life
There may also be punitive damages, if the defendant's conduct was wanton, willful, reckless or malicious.
Call 813-415-3510 Today For a Free Consultation
In Law We Trust Divorce and Family Lawyers has represented many, many motorcycle accident victims and we are committed to helping our clients obtain the damages they deserve. Call John DeGirolamo at In Law We Trust Divorce and Family Lawyers to speak to a top Tampa motorcycle accident lawyer. You deserve compassion, commitment, and aggressive representation. We are here for you!