Getting a Fair Military Divorce in Tampa
When you're active duty military, it may feel as though there is a need to get a specific military divorce. The good news is that, for the most part, a divorce for a man in the military is not much different to the civilian variety. It's subject to many of the same requirements and standards, particularly if your former spouse is not military personnel.
That's not to say there aren't a few key military considerations at play, such as pension/retirement benefit analysis and years of service relative to years of marriage. As with any divorce, it's important you seek guidance from a family law attorney with experience representing men in your position. A qualified divorce lawyer will help you to navigate the challenging aspects of both general divorce proceedings and those nuanced elements where your military service is a factor. Most importantly, you need a representative that will make certain you are treated fairly.
As the well-known divorce lawyers for men in Tampa, FL, In Law We Trust Divorce and Family Lawyers should be your very first call. From 2014 to 2017, the law firm of In Law We Trust Divorce and Family Lawyers, was selected by the National Trial Lawyers of America as one of the Top 40 under 40 in Florida. This is a professional organization where membership is by invitation only and is composed of the top trial lawyers from each state or region who are under the age of 40. We also have the insights that can make a difference in your military divorce and help you make the best fresh start beyond it. We've also been a featured member of The National Academy of Family Law Attorneys since 2019, as well as included in Super Lawyers each year since 2017. Our firm is renowned for our experience in family law and for our successes in helping men with their pursuit of fair child support arrangements.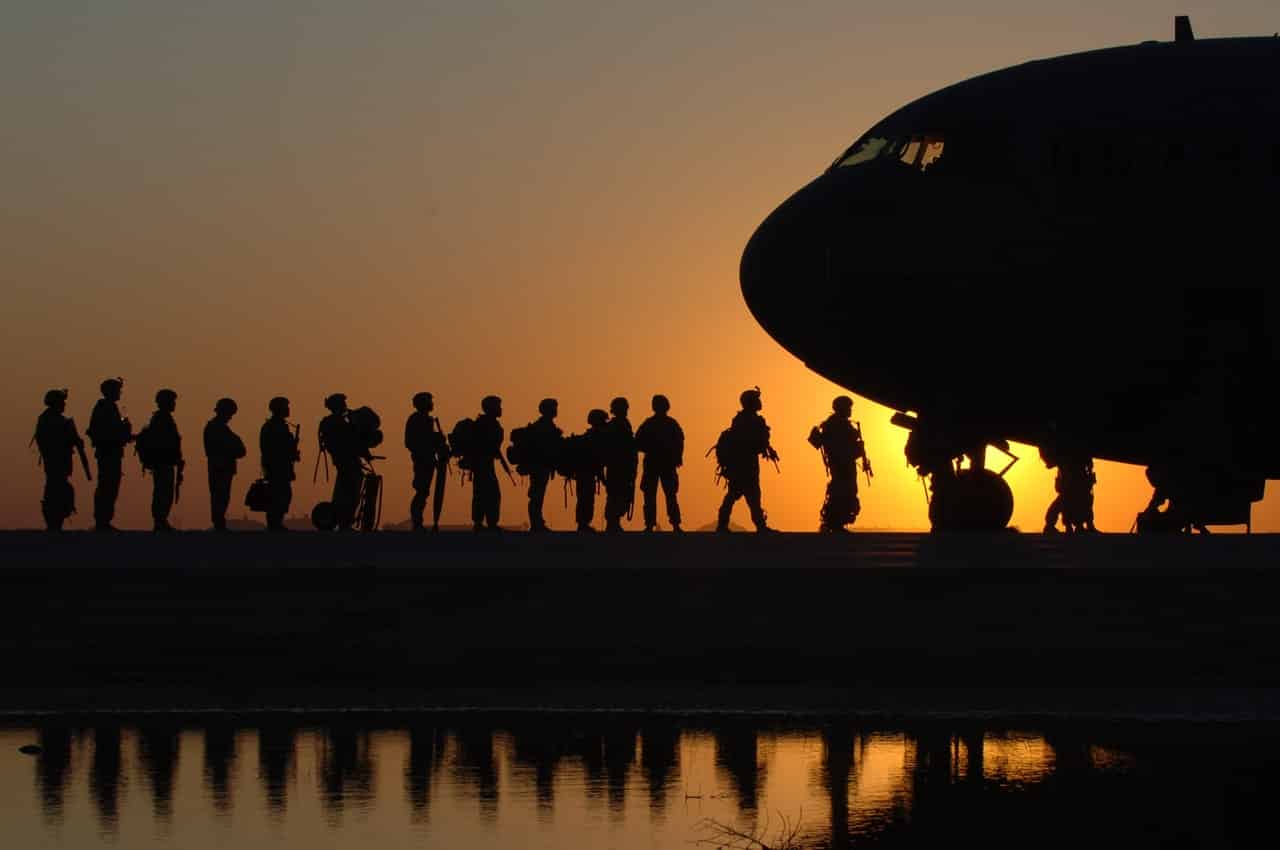 Divorcing While You're Deployed
One of the main difficulties in navigating divorce as military personnel is the potential to be deployed abroad. Obviously, you're unlikely to be able to decline your deployment because you're separating from your spouse.
The important thing is to not become too stressed over this complication. You can still go through the divorce process while you're stationed abroad. The divorce will usually take place under the jurisdiction of your home state.
If it's an uncontested divorce, this should be a relatively simple matter and your attorney can arrange for the relevant paperwork to be shipped abroad or for you to review and sign it electronically. If you are required to appear in court, however, any hearings can usually be postponed without penalties until you are back in the country. However, more courts are allowing attendance via video conferencing. If the latter is your preferred option, discuss it with your attorney to establish if it is practical for your circumstances.
Understanding Military Law Issues
Another aspect to consider is how the circumstances of your divorce relate to military law. If adultery on your part led to the divorce, you may find this could put you at risk of additional consequences. The same applies if your former spouse is active military and there was adultery from their side. The Uniform Code of Military Justice (UCMJ) still considers adultery to be a criminal act, with penalties up to and including dishonorable discharge and imprisonment.
This aspect can be complicated. Even getting into a relationship following separation but before the divorce is finalized can be considered adultery under the UCMJ. As such, it's important you discuss any such circumstances with your family law attorney. We will be able to provide you with the most prudent advice on how to proceed and any preparations and representations you need to make.
Get Military Divorce Guidance from a Lawyer for Men in Tampa
A military divorce isn't very different to a civilian case, but there are aspects that can make matters more complicated. Engaging with an experienced, dedicated, and aggressive lawyer is always your best route forward. Call us to begin your representation and to establish how your military service might factor into proceedings. We will promptly review the details of the case and provide you with the reliable divorce representation that you need. In Law We Trust Divorce and Family Lawyers is a firm of knowledge and compassion specializing in divorce law for men. We will always work our hardest to give you the best chance to achieve the fair divorce outcome you deserve.
Call 813-415-3510 Today For a Free Consultation
Tampa's Family Lawyer For Men