In Law We Trust Divorce and Family Lawyers
100 2nd Ave N #220-9
St. Petersburg, FL 33701
Phone: (727) 623-9469
"I will work tirelessly to give you the best representation. You should accept nothing less than that." – John DeGirolamo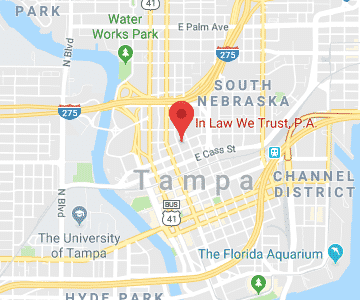 As one of the most important and populous cities in Florida, St. Petersburg is naturally a focal point for family-oriented citizens. This is among the reasons it has been so important for In Law We Trust Divorce and Family Lawyers to represent local husbands and fathers. The men of this part of Florida deserve to have professionals they can rely on to guide them at challenging times in their lives.
Meeting the Challenges St. Petersburg Men Face
Divorce and custody matters are always challenging experiences. However, it's important to understand that the challenges aren't always the same wherever you happen to be. So much of family law depends on geographical location. The husbands and fathers of St. Petersburg face some specific hurdles that those in other cities or states may not have to overcome.
Perhaps chief among these is the reputation local courts have for prioritizing women in divorce and custody cases. In legal circles, Florida is often referred to as the "mother state" for this reason. This is, of course, unfair and puts St. Petersburg's men at a disadvantage if they aren't represented by lawyers with significant experience navigating this system. Husbands and fathers' cases should be based on their merits as caring and responsible people. In Law We Trust Divorce and Family lawyers have the skills and knowledge to ensure the correct standards are applied, rather than outdated perspectives some local courts may have about the role of gender in parenting and marriage.
This isn't just a challenge that affects the division of custody, either. The fair and equitable distribution of business assets can be impacted by gender biases, too. Recent census data shows that around 73% of business owners in St. Petersburg are male. As a result, a court system that unfairly awards assets to female spouses might disproportionately affect local men who are entrepreneurs. It's vital to collaborate with our experienced family lawyers that can help make certain you don't improperly lose aspects of a business you've poured your talent and passion into.
Your Rights & Assets Are Worth Protecting
Tampa's Family Lawyer For Men
Services We Provide to Locals
Matters such as divorce and custody can be complex. As such, At Law We Trust Divorce and Family Lawyers offer men in St. Petersburg a range of nuanced but impactful services. These include:
Child Custody & Visitation
Arranging child custody and visitation is often one of the most emotionally taxing parts of the process. It is vital both for the welfare of the children and the parents involved that any custody plans are fair. We can help men in St. Petersburg to navigate this process and produce a legally binding custody plan that is driven by the best interests of everyone involved.
Equitable Distribution
While there is legislation in place for fair distribution of personal and business assets, achieving the correct balance isn't always guaranteed. Gender bias, unscrupulous accounting, and other elements may all disrupt your ability to gain a settlement that accurately reflects the intentions of family law. Our attorneys are well-versed in navigating even complex financial aspects, such as hidden assets and debt identification. As such, we're well placed to support St. Petersburg's men through the process.
Domestic Violence
Domestic violence is an issue that must be treated with the utmost seriousness and sensitivity. Not only can it be a contributing factor in divorce, but it can also influence elements such as child custody. Whether you have experienced domestic violence or the recipient of allegations, At Law We Trust Divorce and Family Lawyers can provide you with the dedicated representation you need in these matters.
A Local Lawyer with Local Commitment
Community connections can certainly inform a better understanding of the specific needs and values of husbands and fathers and families. As such, men going through divorce in St. Petersburg deserve local attorneys that continue to be committed to positive community impact. John DeGirolamo, founder of In Law We Trust Divorce and Family lawyers, has spent his career dedicated to helping local men navigate the divorce, custody, and litigation process. He was educated at both the University of Florida and Barry University School of Law. DeGirolamo has also repeatedly been recognized as a top 40 under 40 trial lawyer for all of Florida. At the head of In Law We Trust Divorce and Family lawyers, he continues to represent the rights of men in St. Petersburg with passion and determination.
Client Testimonials
"The world feels a little bit safer knowing I have someone like John there to look out for me. I will continue to use John for many reasons, he treats you like a person and not a client, great communication, and I believe in his integrity. John works hard for his people." – Dave Fedorko
"From the onset of meeting John I immediately felt comfortable and confident of his knowledge. He had my divorce completed in 3 months which to me was very important. He would always promptly answer my calls and questions and resolve any issues. I would highly recommend John to anyone seeking a divorce." – Paul Mathisen
"John is an amazing Family Law Lawyer. If you want a hard working, dedicated lawyer who will do everything he can for his clients then John is your guy. Call him today!" – Kevin Martinez
"John is simply the best! Aside his extreme capability, he is personal and compassionate. He genuinely cares about the success of your case which makes him dangerous! Thank for everything John!" – Shayne Osceola
"I looked at many attorneys in the Tampa area and John's background stood out. John DeGirolamo was great to communicate with by text, phone and email. He was very determined to fight for my issue and was very timely in resolving my case. I was very pleased with the outcome and would hire John again for any of my attorney needs." – Brittin Beaulieu
"I was referred to John from a local real estate attorney regarding the defense and a counter suit for a former problem tenant. Tenant happened to be a former judge and attorney. A few lawyers I spoke to had a conflict of interest, or, didn't want to pursue the case for one reason or another. John not only took the case but was fair, always available, honest and direct. I was satisfied with the result and happy with John's services along the way. I would use him again and recommend his services to others." – Dan Schlueter
John is an excellent attorney. My case was handled timely & smoothly. Any questions I had were answered in detail & his firm was always available to me. He helped make something that could have been a nightmare become something much more bearable. I appreciate the firm's hard work & can happily say my case has concluded & with a good ending." – Geoff Langhans
I could have not asked for a better overall experience. I was referred to John by a friend who had a great experience as well and John and his team did not disappoint. They were super responsive whenever I would email, call or text with any questions I had. John is straightforward and to the point and made me feel at ease throughout the whole process. I would highly recommend using him for any family law needs. He is the real deal!!" – Roger Reger